DIY


My biggest advice for DIY brides is time management. I started a lot of my projects very early in the planning process, especially the research of how I was going to complete them. I made my layouts early on. When my event details became finalized I simply could pull them up, tweak what I needed and finish them.

TIP: Photograph EVERYTHING! You never really know how something looks until you see it in a photo.


To see all these DIY in action please take a peek at our other pages from the wedding.

Although many of my DIY's are very popular with most brides, the majority of my work on them is from scratch. I took a lot of pride in my DIY endeavors, which is why my photos are watermarked. I've updated the page with some of my own templates and instructions for a few of the projects. If you have any questions about how I did something feel free to ask. I'll gladly give you some suggestions!

If you use a template or instructions from my page, please give credit where credit is due!
If you use a photo for inspiration please save to your computer before uploading to your bio!
I did borrow a few things along the way and the lovely ladies who shared those with me are noted.
---
STD Magnets , Cards & Matching Seals
This was my first DIY project. I was so new to the whole "planning process" and wedding websites, I didn't even know Vista Print existed. I ended up buying full sheet magnetic photo paper, printing, cutting them myself and then affixing them to half- fold cards. My original design was based around a monogram which I later found out was bad etiquette to use before the actual wedding day :( Our monogram then evolved into a design with flourishes, our names and wedding date.

I also created matching seals for the front envelope enclosure using Avery Template 3112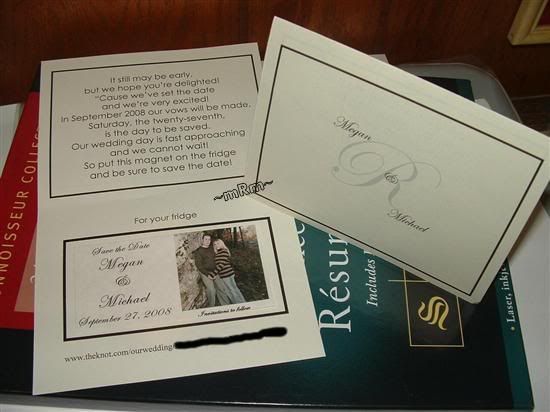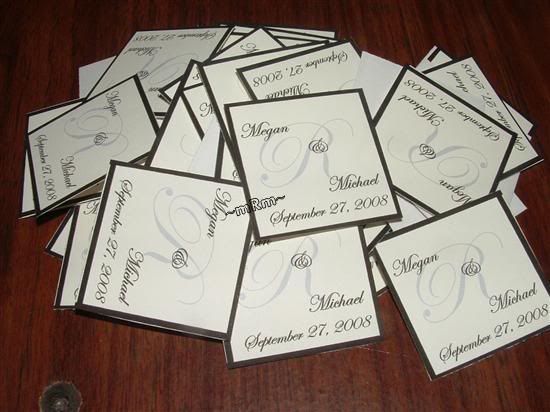 ---
Satin Covered Guest Book & Ring Pillow
I purchased a relatively plain and inexpensive pen and guest book set at JoAnn Fabrics. I covered the guest book in Baroque Satin to coordinate with our colors and added a vintage rhinestone brooch for some bling.
With the leftover Baroque Satin I created a coordinating ring pillow with rhinestone detail.


---
My Mother's Veil
This DIY was probably nearest and dearest to my heart. I have had my Mother's veil hanging in my closet since we moved in 1987. I really don't think she knew what happened to it after the move. I decided in the event I would ever get married, I would try to incorporate her veil into my day. We never had the tradition of passing down a dress, my Mom borrowed my Aunt's gown when she got married.

The first step in this process was to carefully remove the veil from the original headpiece, a wide beaded headband.
I then gently cleaned the veil in a solution of cold water and Woolite, rinsed and hung to dry.
It got SUPER fluffy again and I realized I was in for a ton of work because it was much fuller I anticipated.
I re-gathered each tier so it would be ready to attach to my comb

I hand-beaded the edges with Swarovski seed, bugle and bicone beads. I worked on it a few hours at a time, on and off for a few weeks. I put about 40 hours total to bead all 3 full tiers. When I showed my Mom the finished veil she got so emotional!
She had no idea what I was up to all these years. It was truly a labor of love!!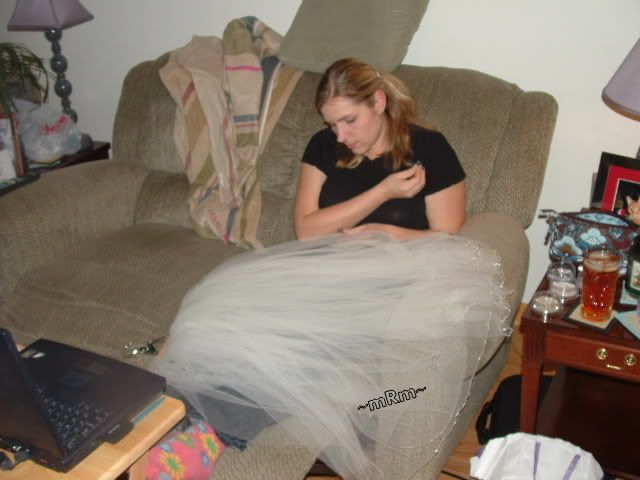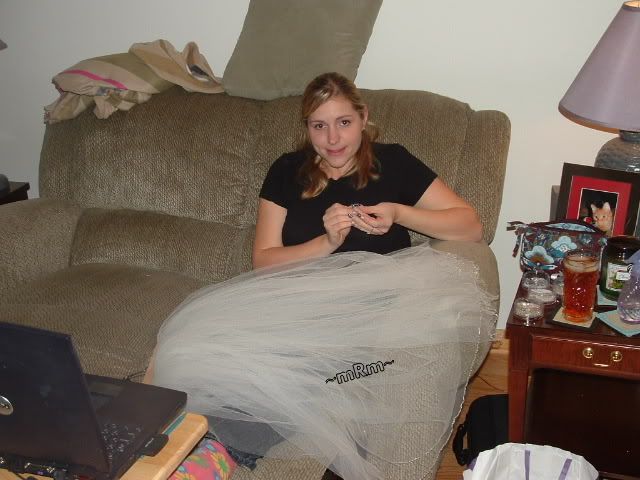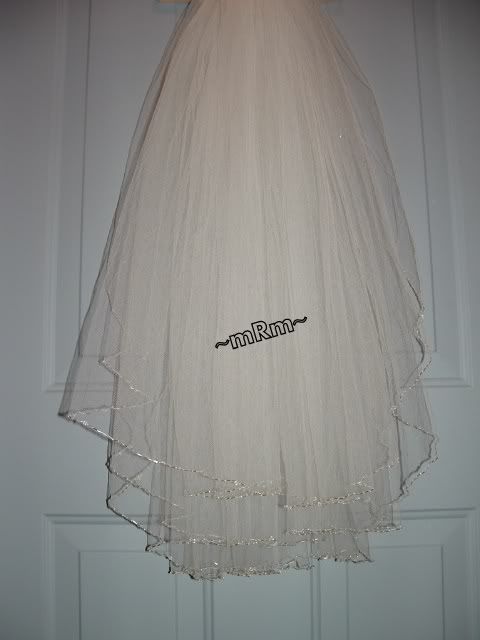 ---
"Will You Be?" Cards
I wanted a cute way to ask friends and family to be in our bridal party.
After searching the card and craft stores without much catching my eye, I decided to design our own.
I layered cardstock and scrapbook paper for the background and embellished with ribbon and rhinestones.
The tuxes and dresses I drew freehand and cut from cardstock, then assembled and added to the cards.

---
Cake Topper & Cake Table Words
I purchased my wooden cake topper from "Crafty Eddy" Ed Reitler (craftyeddy@gmail.com) and cake table letters from AC Moore.
A few coats of acrylic paint and a few hundred rhinestones later they were finished. I also sealed the prongs of the cake topper in canning wax to prevent any wood particles from getting into the cake. If you can't find canning wax be sure to sand them well!
Rhinestones from: http://stores.ebay.com/rhinestonesandcrafts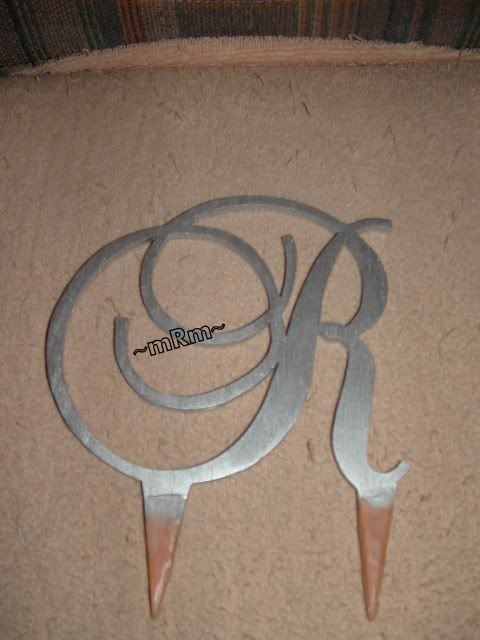 ---
Invitations & Paper Goods
My invitations were based upon Gartner Studios vellum overlay kits. I had purchased these kits right after we got engaged thinking they would be all we wanted. Following months of bouncing around the web and seeing everyone's awesome pocket fold invites, I decided to somehow work those kits into something more modern.

I made the pocket "folders" from black cardstock that I scored and cut to size. After printing the base of the invite and the overlay, I added the ribbon and glued that to the front of the folder. I then printed the return envelopes and response cards that came with the kit, and created the accommodations and directions cards on ivory cardstock and cut them to size. I used a bellyband of scrapbook paper to hold it all together and provide a spot to write guests' names. My envelopes, both return and outgoing were printed on the computer. I love the look of calligraphy but didn't want to hand write or pay for them to be done professionally. I used a combination of fonts to achieve the look I wanted.
.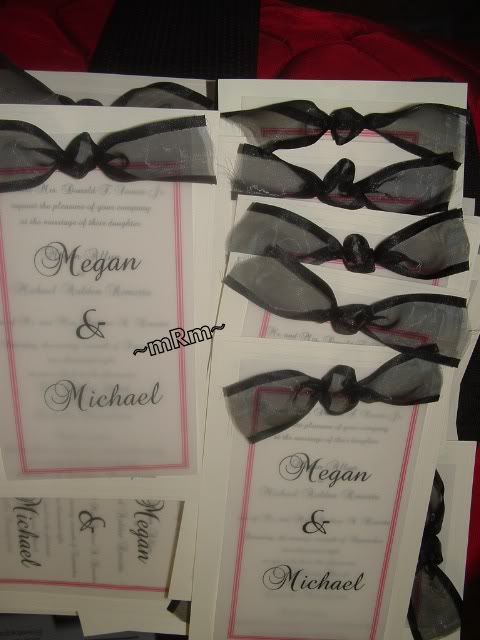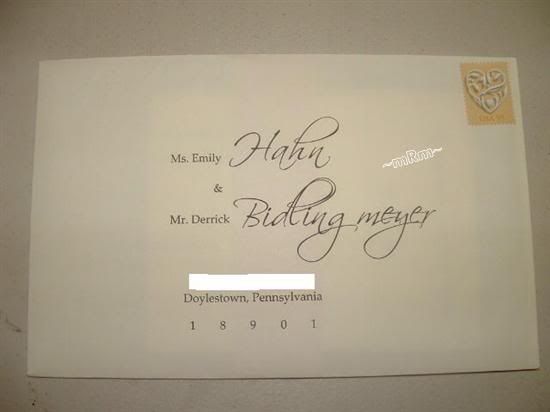 Our RD invitations and cards for our reader's were compiled from leftovers of a bridal shower card kit. I disassembled and reassembled the cards from the kit, and added my own ivory cardstock to complete this project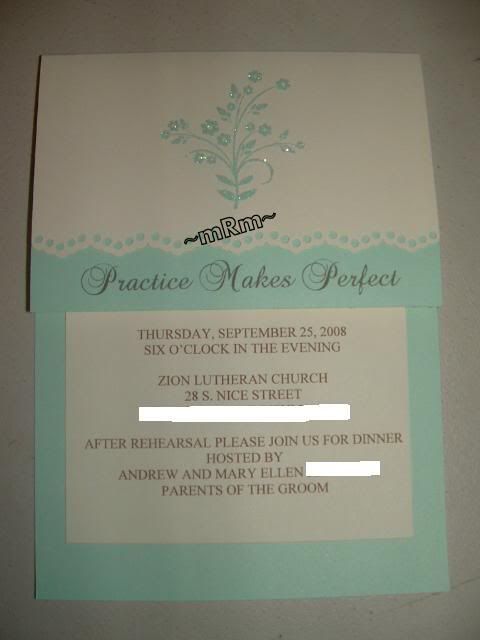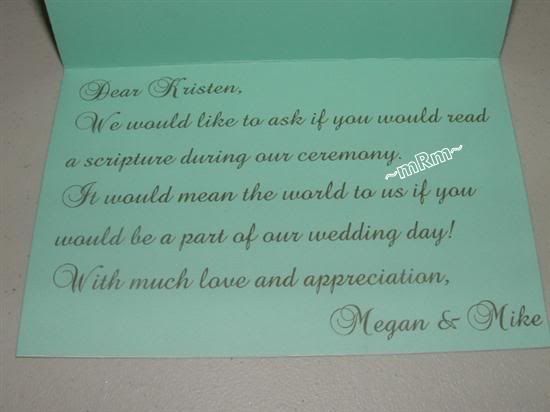 ---
Floral
I knew early on that I would be doing my own floral because DH and a few close friends in my bridal party have severe issues with allergies and asthma. I spent a lot of time researching online floral vendors but found the best luck using local stores like Michael's and AC Moore. I really wanted to see and feel the flowers to know they were the quality I wanted, plus their coupons always help!

I loved the look of the really full round bouquets. I used a large Styrofoam ball for the center and filled it with the cut heads of the roses and rhinestoned stephanotis scattered throughout. The handle was made from a shipping tube purchased at Staples, then wrapped with satin ribbon. I used a rhinestone initial on the bouquet, as well as a rhinestone cross to embellish the handle.
TIP: Buy more flowers than you anticipate using. Sometimes a store will not reorder flower stock and you won't be able to find more unless you travel to other store locations. Don't risk it! Buy as many as you can and save your receipts. Return the leftovers!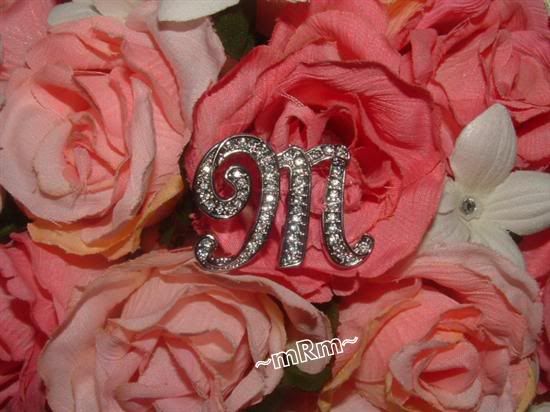 BM bouquets were a smaller Styrofoam ball and roses slightly different in color.
I added rhinestone embellishments to each handle.
The FG kissing ball was made of the remaining roses from my bouquet and the BM bouquets.
The Mother's and Grandmother's bouquets were ivory roses and hydrangea in silver tussy mussy holders.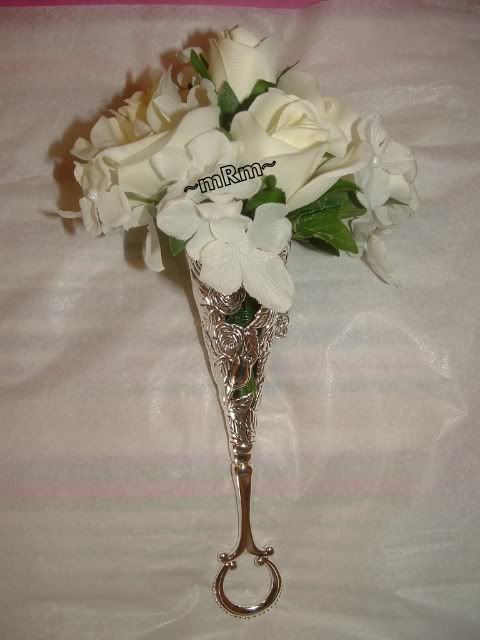 The toss bouquet and reader's corsages were done in ivory roses and hydrangea.
I kept the bouts for the guys simple using a single calla lily. I added a stephanotis to DH's so his was a little different.
The alter and stained glass at our church is very ornate so we decided to keep our church floral to a minimum. I made tall arrangements for each side of the alter using Eiffel tower vases filled with assorted roses, greens and wisteria blooms. I used rose swags on the communion rails and simple rose wreaths below the organ pipes.
---
Attire, Jewelry & Accessories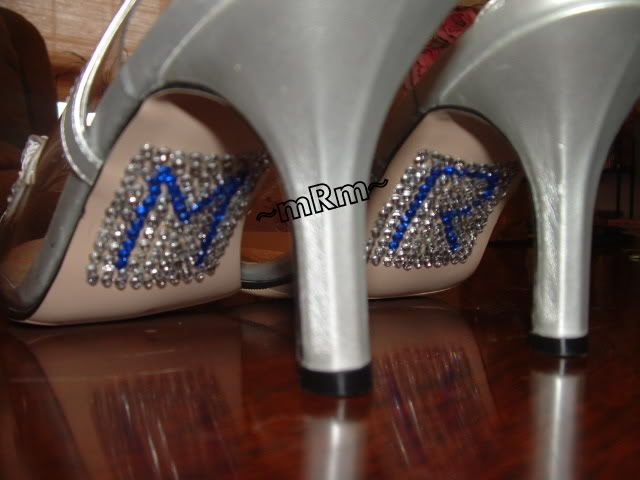 ---
I wanted to incorporate some pink and polka dots into my day of attire, so I designed my own garters.
I used the leftover ribbon on my cardbox.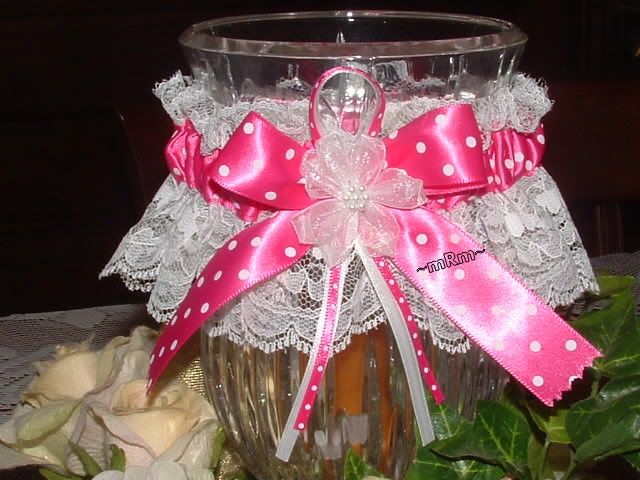 ---
My next undertaking was dyeing my crinoline. It was a bit messy but the end result was well worth the cleanup.
| | |
| --- | --- |
| My Directions To Tub Dye Crinoline | |
I ended up doing 2 more for friends getting married last year.
I also revamped the top one of the crinolines to fit smoother under a drop waist gown.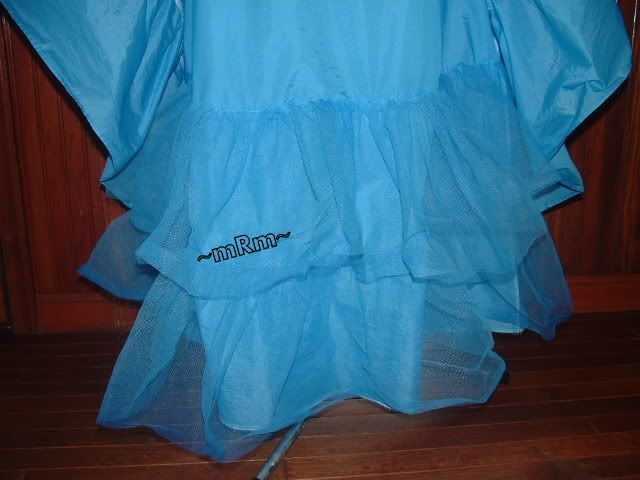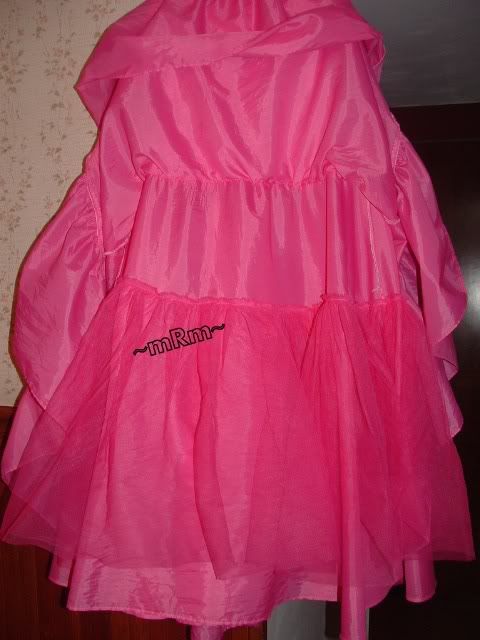 ---
My haute bride inspired bracelet was designed from ivory pearls and a vintage rhinestone brooch. I snagged it on my crinoline the day of the wedding causing one of the pearl strands to break. I didn't have time to repair it so I didn't get to wear it – bummer.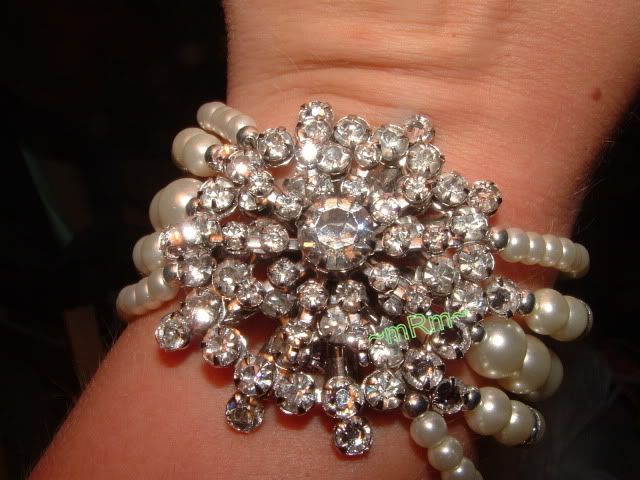 Thankfully I was able to repair it and had the chance to wear it for our Rock the Dress shoot
---
I was certain I was gong to wear some type of feather/flower fascinator for the wedding and I made two different styles. Although trendy and cute, it just didn't seem to work with my final hairstyle and overall look for the day.
I used a rhinestone hairpiece in place of them.
Original
I decided to redo the ivory hair flower to include a pop of colored feathers for our RTD Shoot
---
My greatest sewing undertaking came for my Jr. Bridesmaids. I wanted something age appropriate yet that complemented the gowns worn by the older members of the bridal party. I made them simple tea length black dresses with wide straps and an ivory satin sash.
I purchased vintage rhinestone pins for detail on their sashes.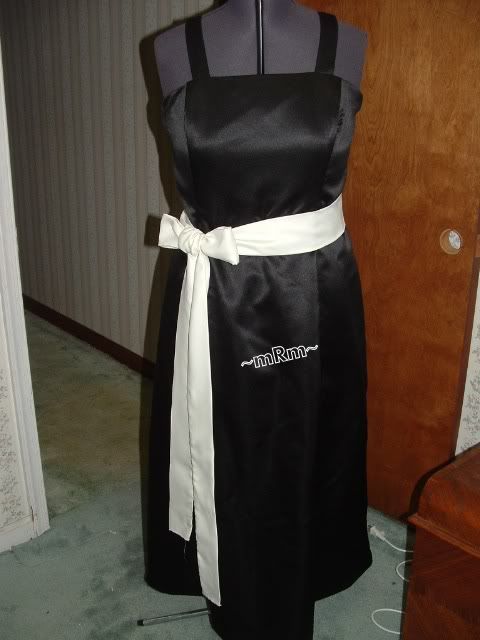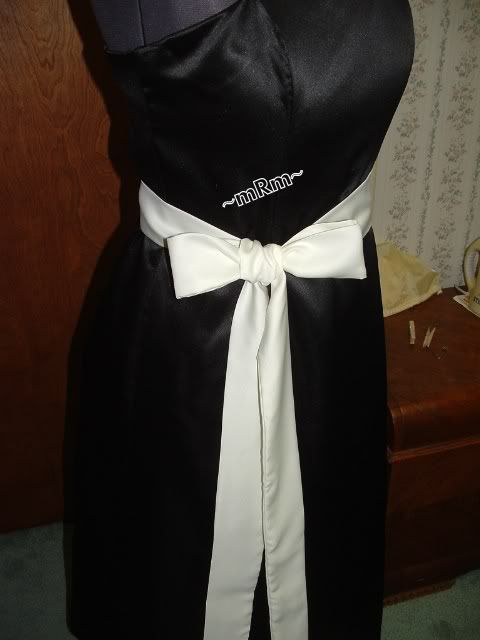 ---
Ceremony
For our ceremony I definitely wanted an aisle runner with our names and date. I also added a quote for the alter end of the runner.


We used the same quote as a background on the vellum overlay on our unity candle.
I beaded ribbon to finish off the top edge of the candle.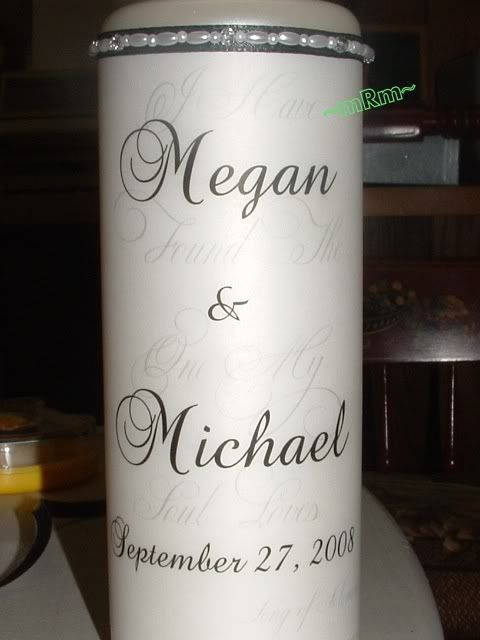 ---
Our church is very old and lacked air conditioning so I decided upon paddle fans for our programs. I included a current engagement photo as well as a childhood photo of DH and I to personalize them. I packed them all up in a cute wicker basket to set out for guests.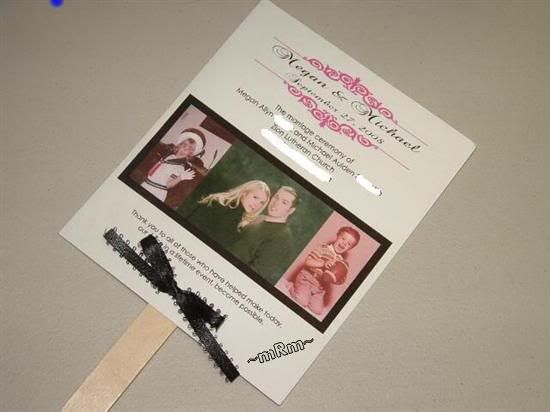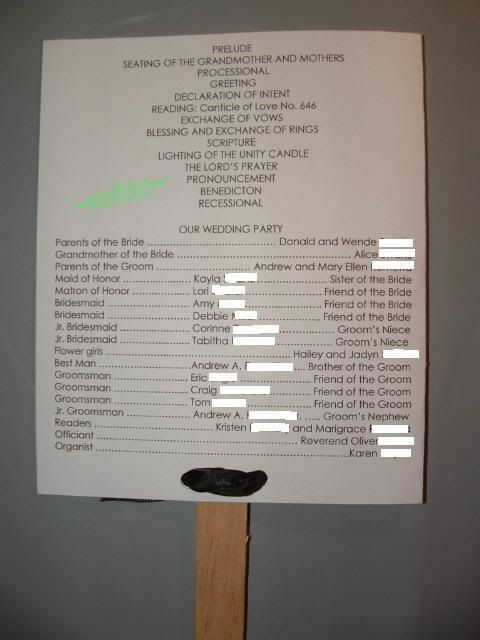 ---
The church also wasn't keen on us throwing anything on our way out, so we went with the old standby of bubbles.
I simply tied ribbon to the lids and put them in a basket with a little poem.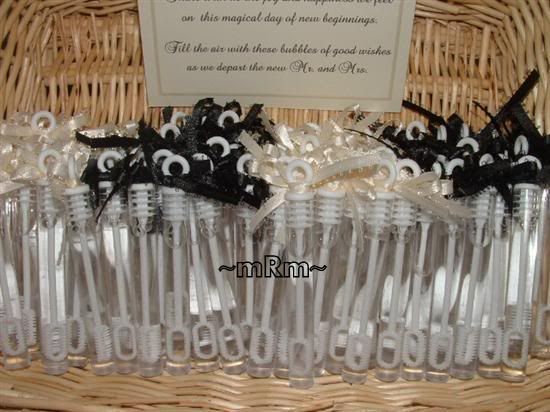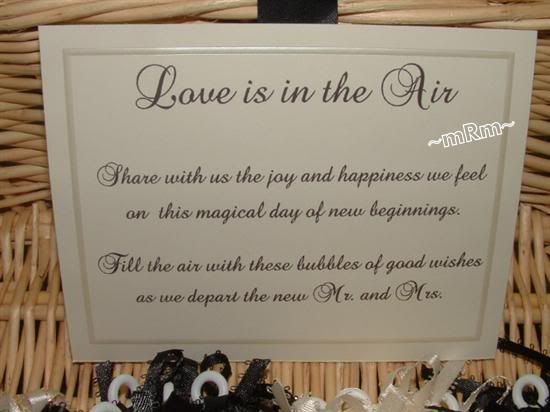 ---
Reception
We had two signature drinks at our reception, each named after one of our kitties. I used their photos as a background for the sign that contained the drink recipe. We placed each sign at opposite ends of the bar.

---
Our cardbox was loosely based upon the design of our wedding cake, which was square and 3-tiers high. I covered boxes in quilt batting, ivory jacquard and black satin fabric. I adorned each tier with ribbons that matched our wedding colors, rhinestone buckles, and rhinestone trimming around the card slot. I used our name/date design to finish if off.


---
This is the start of the hand painted banner that we displayed on our heritage table. It
was made from the same Baroque Satin that I had used on our guest book and ring pillow.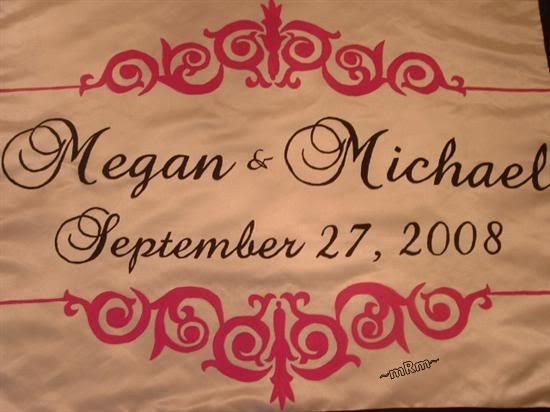 This is another project I have done for other friends getting married. It's usually a big hit!
---
Tables were set with vellum wrapped votive holders as table numbers. I used the remainder of the paper from my invitation bellybands to edge them. We alternated low centerpieces consisting of a cylinder filled with colored water, rose petals and floating candle, surrounded by votives and petals on a silver charger. I made black satin rounds on which the whole ensemble sat upon.


We also provided our guests with menus and donation cards.
These were the mockup of our water bottles set out for guests to take as they exited the reception.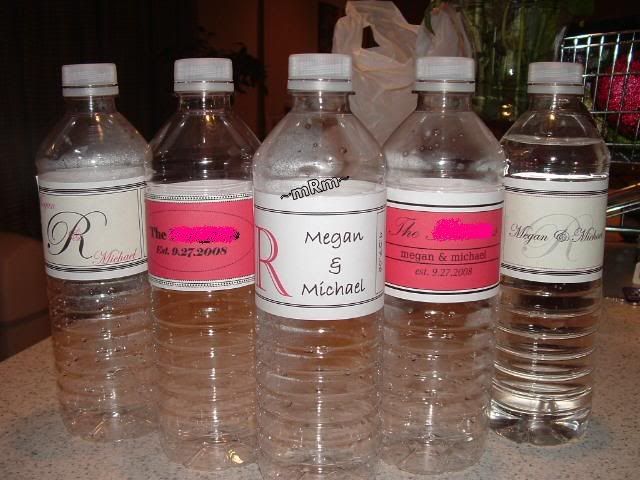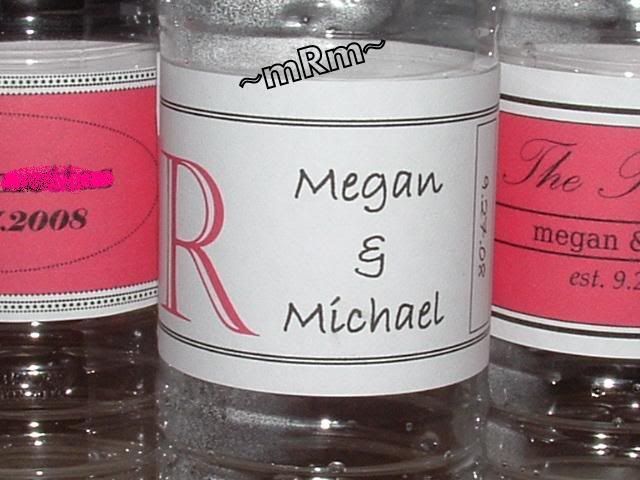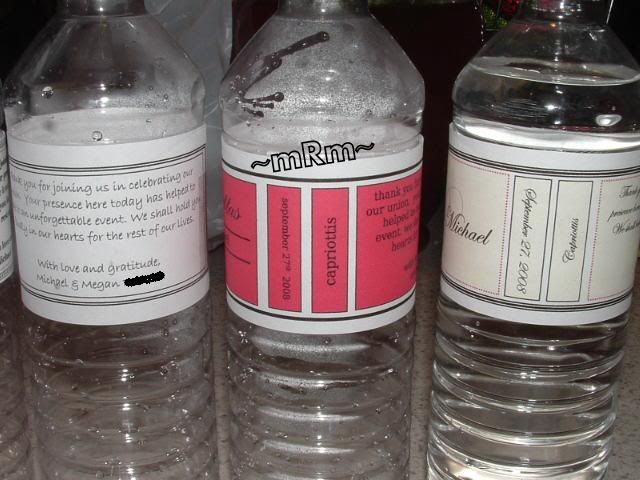 ---
For our candy buffet I created stickers to dress up our simple plastic goodie bags.
I also tied black ribbon to our candy tongs and scoops.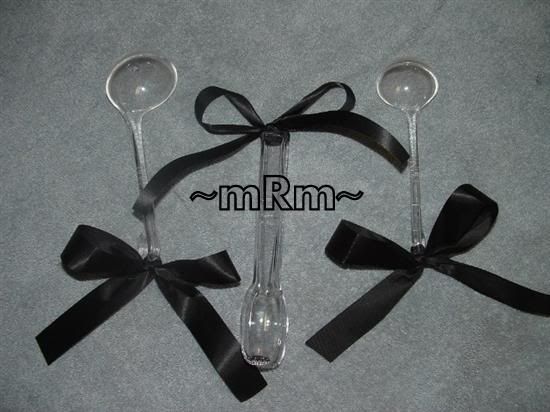 ---
Our venue did not provide bathroom baskets – so I put together a basket of things I appreciate having around.
No fancy poems or rhetoric just "compliments of the newlyweds."


---
Gifts & Glass Etching
I wanted to include something hand crafted in the gifts to our bridal party and family. I hand cut stencils from painter's tape and used etching cream to create some customized glasses and frames. For the Jr. Bridesmaids' I etched the glass tops of their jewelry boxes.
Our FG gifts were tote bags with their names in rhinestones. I filled the bags with day of goodies including our wedding coloring book.

TIP: There are some Etsy sellers who will custom cut your stencils from vinyl so that can save you a lot of time on this project.
If you have a Cricut you can probably do them yourself with the vinyl sheets they sell!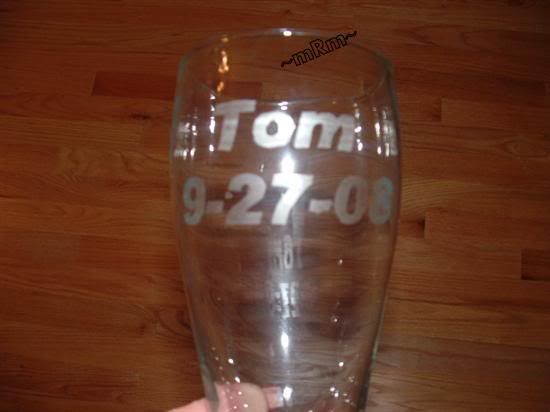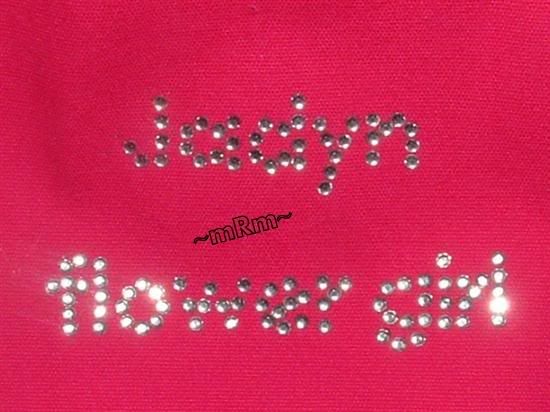 | | |
| --- | --- |
| | Template Courtesy of Knottie Mueagles08 |
Timeline Templates Courtesy of DoingItRight on The Knot





Bridesmaid Card & Newsletters Courtesy of Knottie PA_Bride_to_Be